Description
HookFire's Rainbow and Brown Trout Fishing Lodge
Discovered over 20 years ago as one of the world's premier fly-fishing destinations
Sits on a property encompassing 50,000 acres in the foothills of the Andes Mountain range
Breathtaking sceneries allow for any activity the heart desires- fishing, hunting, golf, rafting, shopping, spa experiences, hiking, and biking
Easily accessible as a commercial airliner lands weekly at the regional airport which is only a 10 minute drive from Tipiliuke lodge!
Voted as one of the Top 72 hotels in the world by Taschen's, one of only two South American hotels to make the list
12 miles of private riverfront property with the Chimehuin and Quilquihue Rivers, also a 3 mile private spring creek provides a world-class fishery
Also serves as a world class hunting destination providing trophy free Red Stag and California quail
In 2011, Tipiliuke was voted the "World's Top Fishing Lodge" by Sporting Classics Magazine
The Fishing - Tipiliuke Lodge
Fly-fishing in Argentina put Tipiliuke on the map more than two decades ago. Considered by most anglers to be one of the world's finest fly-fishing destinations. Tipiliuke, in Northern Patagonia, inhabits 17 miles of the finest trout waters in the world, along with a 3-mile private creek.

Trout fishing season runs from early November through May. Tipiliuke has two different but equally impressive rivers, the Chimehuin and Quilquihue, running through the heart of our 50,000 acres. Most of the fish are caught using dry flies but occasionally we use a "dropper" in conjunction with dry flies. During late December through February, the Tipiliuke waters are known for their prolific hatches of yellow mayflies, offering some of the most thrilling dry fly-fishing in the world.

In addition to world class fly-fishing, the property also boasts some of the best free-range Red Stag hunting you can only dream of. California Quail hunting is also available, starting April 15th. With the endless options at Tipiliuke Lodge, you can enjoy the once in a lifetime opportunity to complete a Patagonia "Grand Slam" with a rainbow and brown trout, trophy Red Stag, a dozen California Quail, and a Russian Boar.

Anglers typically return to the lodge around 2:30 PM for lunch in the shaded tree grove. In the late afternoon, we will usually return to the river around 6:00 PM, depending on the time of year, and fish until sunset. During the last 30 minutes of light we often use a large streamer to coax out one of the monster browns from the Chimehuin River. Typically the fish average 14-20 inches, but each season we catch enormous browns measuring up to 30 inches. Most of the fishing is mostly wading; however, we also offer the option of fishing from custom drift boats on the upper and lower Chimehuin.

TIPILIUKE GEAR LIST for Northern Patagonia

• For most of the season we use a 5-weight rod, if the waters are high we might use a 6-weight
• A 3- or a 4- weight are great for fishing the private creek
• Floating lines. We rarely use sink or shooting heads
• Polarized Glasses
• Quality Breathable Waders
• Gravel Guards
• Quality felt soled wading boots (spiked boots are a plus)
• Wading staff (optional but recommended)
• Quality breathable rain gear (Mid-weight and expedition weight)
• Fleece for insulation under waders and for upper torso
• Fleece jacket(s)
• Quality heavy duty wading socks
• Long sleeved fishing shirts
• Wide brimmed hat, and/or baseball cap for sun
• Sunblock
• Leaders, 7 1/2 and 9 feet, 3x, 4x and 5x
• Tippet, 2x through 6x
• Fingerless fishing gloves, fleece and/or sungloves
• Personal medications
Dry Flies
• Stimulator, sizes 8 - 16; yellow, olive, orange
• Elk hair caddis, size 10 - 16
• Goddard caddis, size 10 - 16
• Parachute Adams, size 12 - 16
• Turck's Tarantula, size 8 - 12, yellow, olive, and natural
• Madam X, size 8 - 14, yellow
• Chernobyl Ant, size 8 - 12, black/tan, black/black and black/orange
• Parachute Ant, sizes 14 - 18
• Parachute Hopper, sizes 6 - 14, tan and olive
• Black Beetles, size 8 - 16
• Dave's Hopper, size 8 - 12
• Hexagenia mayfly adults and cripples, sizes 6 and 8 (Dec - mid Feb. only)
• Cicada, sizes 8 - 12
• Royal Wulff, sizes 10 - 16
• Humpy, standard or royal, sizes 12 - 16, Yellow, Red, Olive
• Trudes, black, royal, or peacock, sizes 10 - 14
Nymphs
• Bead Head Prince, sizes 10 - 16
• Bead Head Pheasant Tail (flashback or natural), sizes 10 - 16
• Bead Head Hare's Ear (flashback or natural), sizes 10 - 16
• Bead Head Red Fox Squirrel nymphs; sizes 10 - 16
• Bitch Creek nymph, weighted, sizes 8 - 12
• Soft Hackles, size 12 and 14, olive, tan, and orange
• Montana Stone, weighted, size 8 and 10
• Bead Head caddis larva and pupa, size 12 - 16, olive and tan
Streamers
• Black, Olive, White weighted Wooly Buggers, sizes 6 - 10
• Matukas, olive and black, sizes 6 and 8
• Spruce fly, Natural and Furnace, sizes 8 and 10
• Kiwi muddler, natural and olive, sizes 6 and 8
• Muddler minnow, natural, sizes 8 - 12
• Double Bunny, olive/white, sizes 4 and 6

FISHING SEASON RUNS FROM 
NOVEMBER 15th - MAY 31ST
Accommodations - Tipiliuke Lodge
•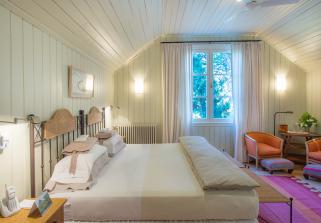 Tipiliuke features 9 private "en-suite" bedrooms comparable to some of the finest resorts around the world.

• Wi-Fi is available throughout the lodge as well as in the outdoor seating areas where guests lavish in magnificent scenic views.

• Large wood-burning sauna and available masseuses are ready to help you relax after a long day of fishing.

• World-class cuisine, personalized service and unsurpassed attention to detail makes Tipiliuke
the ultimate travel destination.


Cuisine

•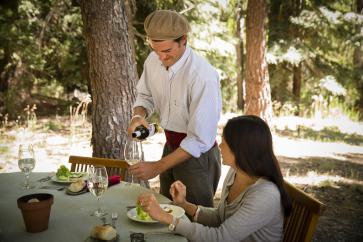 Discover the secrets of Northern Patagonia's extensive flavors, produced from our own organic garden.

• All dishes reflect the country-style cuisine of thenative region, carefully prepared by culinary chefs who strive to make your trip the ultimate culinary experience.
Location - Tipiliuke Lodge Patagonia, Argentina
The Tipiliuke Lodge is located in the southwest corner of the Neuquén province in the region of Patagonia, 1000 miles southwest of Buenos Aires. It is located in the lower Chimehuín River valley, a 10 minute drive from the Chapelco airport, and in between two towns; 22 kilometers (or 13.7 miles) from the town of Junín de los Andes and 35 kilometers (or 21.7 miles) from the town of San Martín de Los Andes.

Our guests usually arrive at Ezeiza International Airport (EZE) in Buenos Aires. To get to Tipiliuke, you take a two-hour flight from the downtown airport (Aeroparque, or AEP), to the San Martin de los Andes airport (Chapelco) in the Patagonia region. You will be met by a member of our staff who will assist you and drive you to the lodge (approx. 10 minutes).

Another alternative is to fly from Aeroparque to the Bariloche (BRC) Airport (a 2-hour flight) located in the Patagonia region, where you will also be met by a lodge representative. This option, however, will involve a 3-hour drive through our scenic Patagonian roads.