Description
HookFire is proud to offer the very best in Cordoba Argentina Dove Hunting, while enjoying the most action packed hunt ever experienced on the planet. An experience set in Cordoba, Argentina in the largest dove roost in the world, home to more than 40 MILLION dove!
Gentlemen, for those of you who have not taken this trip, steaming hot barrels and non-stop dove hunting action is all you can expect. Not to mention, you will be wined and dined with 5 star accommodations, impeccable service, and gourmet handcrafted menus fit for royalty. Enjoy a place where you can shoot Dove as much as the heart desires while enjoying a full service white tablecloth barbeque lunch in the field over a glass of wine or cold beer with friends or family before retiring back to the lodge for cocktails and a relaxing massage.
This place is heaven on earth for the ultimate wingshooter looking for an experience that has it all! Enjoy Awe-Inspiring wingshooting in a dove shooter's kingdom!
First class accommodations in a 19th century fully renovated country mansion, which sets the bar from which other lodges are measured.
Our lodge's prime location enjoys short drives to our dove hunting areas spanning over 250,000 acres.
The pioneer in the dove business with over 20 years of experience catering to corporate, friends, and family hunting groups.
Have the opportunity to shoot the two largest dove roost in the world with a population over 40 million dove.
Savor fine cuisines at breakfast or dinner with a custom menu of mouth watering dishes to choose from including Argentina's famed beef, Malbec wine flowing from the bottle and fresh local seafood or homemade desserts- all prepared by our talented culinary and pastry chef.
Relax in the sauna or with a massage, maybe enjoy a glass of wine in the hot tub or shoot a game of pool with your friends --let our staff see to every detail of your stay, so that your only task is enjoying the hunt.
Relax and let our staff see to every detail of your stay, so that your only task is enjoying the hunt.
The Hunting at Pica Zuro Dove Lodge
With a roost of over 50 million dove, Cordoba is hailed as the dove shooting capital of the world. The lodge maintains 55 shooting fields and is surrounded by a 100 square mile radius of serene rolling farmland.

The region's healthy and prolific bird population reproduces here over five times a year. As a result of the abundance, the lodge is able to donate thousands of doves to a local food kitchen that serves the area's needy children.

The hunting program typically begins at 8am with a hearty breakfast and a short drive out to the field. During the shoot, you'll be assigned the assistance of a pick up boy. He will provide you with shells, refreshments and directions to your shooting stand. You'll also receive frequent visits from our Head Guide, who will be able to assist with any of your needs and/or answer any of your questions - including shooting tips, if you'd like.

Around noon, under the shade of a comfortable safari tent, you will be treated to an incredible barbeque lunch. You'll enjoy some of Argentina's finest beef cuts and most delectable wines.

After exquisite dining, you'll return to the field for the afternoon shoot which begins around 2-2:30pm and continues until almost dark. There's not a pre-determined 'quitting time'. Good sense and tired shooters dictate the day's end. At that time, return to the lodge for cocktails and a satisfying dinner.
Guns
Beretta 28 Gauge Over/Under
Models: Silver Pigeons with 28" Barrel and Onyx with 26" Barrel
Browning 28 Gauge Over/Under
Models: Classic 525

Benelli 20 Gauge Semi Automatic
Models: Inertia Driven Models Montefeltro and M1, Unplugged
Beretta 20 Gauge Over/Under
Models: Silver Pigeon 28" Barrel, Single Trigger and Non-Automatic Safety; 686 and 687 26" Barrel
Browning 20 Gauge Over/Under
Model: Classic 525

Benelli Vinci 12 Gauge Semi Automatic
Models: Montefeltro, M2 and Supersport (30" Barrels)
Beretta 12 Gauge Over/Under
Model: Silver Pigeon 28" Barrel, Single Trigger

DOVE SEASON IS YEAR-ROUND
Accommodations - Pica Zuro Lodge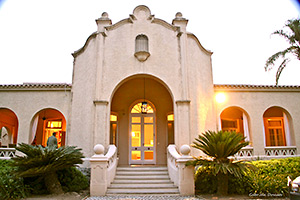 From the moment you arrive at the swinging gate outside of Pica Zuro, you'll find yourself immersed in the old world elegance that pervades the property. As you proceed up the winding drive, you'll sense that the lodge has had time to age and settle. There's a serene charm on the grounds that continues right into the building. From the geese swimming in the pond to the fans swirling over the veranda, things just feel comfortable here. Offering 9 private bedrooms, each with private bath, it is the perfect setting for dove shooters and their guests to simply relax and revel in the perfect hunting holiday. If your party is looking for an even more exclusive experience, Pica Zuro offers private lodge for 10 guests or more.

You may have seen gorgeous photography of Pica Zuro…but photos can't begin to do the place justice! The architecture and beauty of Pica Zuro is even grander than what's been caught on camera. The rooms are bigger. The ceilings are higher. The chairs are softer. The landscape is even richer.

Yes, the pictures are beautiful. But no picture can perfectly capture the serenity of relaxing in a quiet room after a successful shoot. Nor could it perfectly depict the pleasure of laughing with friends on the outside veranda while waiters in white jackets serve drinks and refreshments. And even video can't come close to portraying the incredible quality of Cordoba's dove hunting. It's something you just have to see to believe!
Cuisine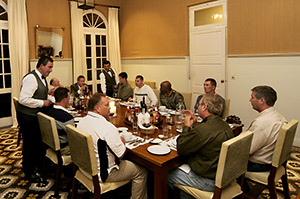 Our guests tell us that it's hard to describe their exact shooting experience here to others because it's so unlike anything else. At Pica Zuro, there are just so many doves, every minute of the day! It's a challenging thing to put into words. Our shooters feel the same way about their dining experiences at Pica Zuro, as the meals are so divine that just telling you about them doesn't begin to scratch the surface!
You have to come and shoot with us and dine with us. You have to smell the fresh, hot empanadas steaming in a wicker basket. You have to breathe in the fragrance of Argentina's famed grass-fed beef or lamb grilling over orange coals. You have to taste the earth in carrots grown from our very own lodge garden. You have to savor the rich plum and cinnamon notes in one of our fine Malbec wines. Then you will understand that at Pica Zuro, we take your dining seriously. We want to make every meal as wonderful and memorable as your trips to the field.
One distinctive pleasure that you'll find only at Pica Zuro is: dining choices. No other lodge in the shooting world offers dining choices like we do. It is our personal innovation and pleasure to offer you variety, options and gourmet quality cuisine. Would you like eggs for breakfast? We serve them in one of six ways. Would you prefer waffles, porridge or French toast instead? No problem, coming right up.

The delicious cuisine doesn't stop at breakfast either. Our field lunches are legendary! We serve this important meal al fresco in the shooting area each day. We bring you a variety of meats, like grilled dove breast, tender beef fillet, varieties of our famous sausages, short ribs, lamb, grilled chicken and more. We also bring you salads fresh from the garden, hot baked bread from our ovens and, of course, a tasty dessert. To top it all off, we even bring hammocks, in case you'd like a little siesta after lunch.

After your day in the field, the evening meal is a celebration of fine dining - but, in the comfort of a
casual setting. This is the meal where our chefs really shine. Choose your favorite a la carte meal and we'll grill it to order for you. You might choose to enjoy our famous beef and order a perfectly grilled steak. Or, if you're feeling a little more adventurous, you might order our Risotto with calamari sauce. Want something a little lighter? There's always our grilled trout with tomato puree. But whatever you choose, be sure to try one of our specialty dishes while you're with us. Also, be sure to look forward to our daily dessert creations! Every day brings a different delight: flan, dulce de leche, homemade ice creams, pies and fruits – there's always something delicious to enjoy!
Wines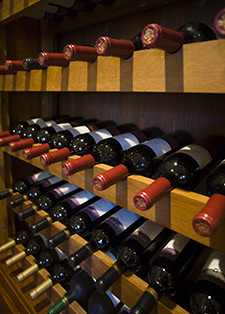 We must make a special mention of our wines. Great wines are a staple of Argentine culture. They are very much a part of our daily lives. Here, you can easily buy a bottle of wine from a gas station next to a shelf of wiper blades…but that is not where we make our wine purchases. We have partnered with several unique and very special vineyards here in South America to fill our cellars with an extensive collection of fine regional wines. Our chefs present these wines in perfect harmony with the meals prepared for you. We also have other spirits available for you to enjoy, but we are especially enthusiastic to introduce you to our award-winning Malbec wines, known throughout the world as an Argentine treasure.